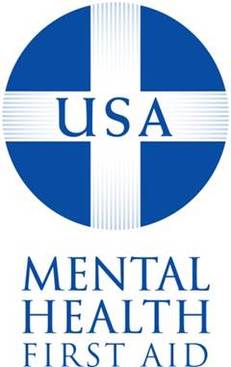 Mental Health First Aid
is back! This training is offered in the form of an 8-hour course that presents an overview of mental illness and substance use disorders in the U.S. It introduces participants to risk factors and warning signs of mental health problems, builds understanding of their impact, and overviews common treatments. Those who take the 8-hour course to certify as Mental Health First Aiders learn a 5-step action plan encompassing the skills, resources and knowledge to help an individual in crisis connect with appropriate professional, peer, social, and self-help care. Participants who complete this full day of training will receive a three-year certification.
Date & Location: July 31, 2017 at The Light Community Church, 601 Azalea Ave., Richmond VA 23227
Time: 9:00 a.m. to 5:00 p.m.
Cost: $139, Discount for Resource Hub MembersFacilitator: Tonya L. Pulliam, MSW; For more information, contact us at 804-385-4171 or tonya@thepicf.comClick the logo to register!
---
Promoting Continuous Learning in Mental Health

The PICF Training Institute offers a host of standard educational, informative, and interactive courses designed for individuals working in the helping field, whether a new employee, the seasoned employee, or the general public. The PICF Training Institute also specializes in the development of customized training programs for businesses and community programs.

Courses include:

Clinical Documentation Skills
Safety Planning
Clinical Assessment Writing
Clinical Interventions Training
Mental Health First Aid (MHFA) and MHFA for Veterans
Urban Trauma
Domestic Violence & Its Effects on Children
First Aid & CPR: Child and Adult
Medication Management & Compliance
Cultural Competence
Ethical Dilemmas

---











"I just wanted to give a HUGE THANKS for facilitating the Cultural Competency Training for our team. We had so much positive feedback about how engaging & energetic your training was!"
Ly Hayes, National Counseling Group



---

Are you having trouble writing your ISP's? Not sure if your goals and objectives make sense and lead to your client's intended outcomes? Attend this 2-hour workshop and bring your lunch and your work with you! Get assistance from our facilitators to make your Person-Centered ISP work for you and your clients! $50.00 per person. Register NOW!
Date: Feb 28, 2017
Time: 11:00 AM - 1:00 PM
Facilitator: Tonya L. Pulliam, MSW
Cost: $50.00
Where: Gather RVA, Moose Conference Room
2920 West Broad Street
1st Floor, Moose Conference Room
Richmond, VA 23230

---

Documentation & Writing Courses

The participants explore, experience, and master the art of writing and understanding the Assessment, the ISP, the Progress Note, and the Safety Plan. Each participant will receive written training materials and learn specific formats for writing clinically. Participants will gain knowledge and experience to accurately document behaviors, interventions, strategies used, and clinical impressions. Practice makes perfect!

This training is ideal for Case Managers, In-home Counselors, Mental Health Skill-Building Counselors, TDT Counselors and those who supervise these programs. Please contact us if you have any questions about this or any other course offered by the PICF Training Institute.

For more information, contact us at 804-385-4171 or tonya@thepicf.com
Next Class--Connecting Practice to the Paper trail: ISP Linkage to the Progress NoteDate: March 27, 2017Time: 9:00 a.m. to 4:30 p.m.Facilitator: Tonya L. Pulliam, MSWCost: $100 per personWhere: Richmond, VA

---

---

---

---